This is me (and the MAGNIFICENT Coach B) nearly ten years ago, probably at the most fit of my adult life ( I was 185-190, 18% BF in these photos). I had been doing Crossfit for just about a year and I was gung-ho about Paleo, Olympic Lifting, and whatever the WOD was at CrossFit MN (Now CrossFit Edina).
From there I went on to get my CFLV1 certification, during which I got to work and learn from two of my CrossFit heroes, Chris Spealler and Jon Gilson.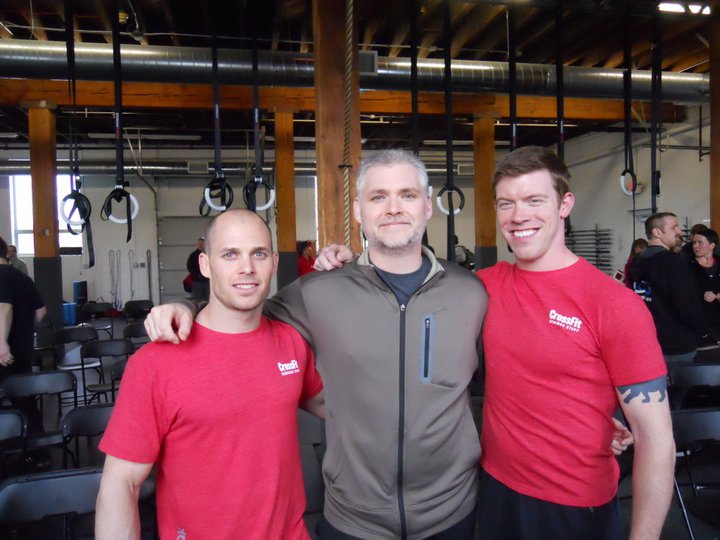 and then, basically LIFE happened. While I was doing this initial fitness training I was on a long term project in the Twin Cities. It gave me the consistency and permanence I needed to find a CrossFit box and a training community that I could commit to and it allowed me to focus time every day on myself, my health and my fitness. Unfortunately, almost immediately after this last photo was taken I rolled off the project I was on and moved on to several years of constant travel with no permanent work location, we had another child, and the stress of having a larger family to support and being an introvert ground against my low desire to work out in the gym of whatever hotel I was styaing at this week.

Ten years later and I have two kids, am still traveling inconsistently and am now 229.5lbs @ 40% BF and I need a change.
I have made half-assed attempts at fixing this in the past, but haven't put in the effort to fix my mental state, which is the root of my problem(s). Enter Coach Mark Divine and SealFit. His programming is CrossFit adjacent, so... familiar, but more importantly, he focuses on the mental fortitude that one needs to succeed, and takes several approaches to helping people (from Special forces Operators to everyday joes like me) get right in the head to set themselves up for success. And look, most of it is things that I've heard before - specifically around goal setting and mind set, but the way he lays it out is and has you approach works for me and gives me motivation to follow it, so here I am. Starting a journal, printing out a training schedule and taking on a new (old) obstacle.
Wish me luck.